Robin of
Now Smell This
is without a doubt the unsung hero* of the perfume-blog world. I don't share all of her tastes in perfume, but I always enjoy reading her thoughts, and respect her opinion because it's never fanciful or perverse. If I were an influential magazine editor or book publisher I would snap her up in a jiffy. Of course, that would probably mean she'd be too busy to carry on delighting us with news, reviews and all manner of insights on a daily basis. I used to flit about all over the Internet in an attempt to keep myself informed; her wonderfully clear and user-friendly blog is now my first port of call. If you haven't discovered it yet, you have a treat in store.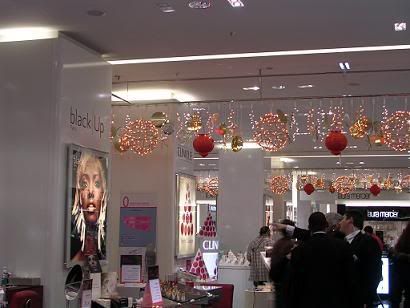 Previous guest-slappers have tackled such weighty issues as access to health care, littering and excessive violence in video games, and I considered following in that vein by taking on some meaningful topic like World Peace or the No Child Left Behind Act. But the holidays have left me more than usually drained of any ability to think Big Thoughts, so I am going to stick with my usual frivolity and give a resounding slap to every snooty salesperson I've encountered in the past year while engaged in my habitual frivolous pastime: shopping for perfume.

I shop for perfume a lot. I am not a good customer, since I rarely buy anything – I just do my part to drain the testers, and I try to cadge free samples. So I sympathize with the salespeople who have come to recognize me at my local mall, and sigh when they see me coming. They know I am a waste of time, and this slap isn't for them.

But pray tell, what exactly is it about standing behind a glass counter all day selling perfume that seems to engender such a massive feeling of superiority over your fellow man? When I was much, much younger than I am now, I rather thought that the saleswomen (they used to be all women) in the beauty area had the right to be snooty. After all, they led Glamorous Lives and possessed all sorts of arcane knowledge, such as how to do a smoky eye without looking like a raccoon and how to choose the right lip liner to blend with your lipstick. Now that I am older, it is increasingly obvious that selling perfume or eyeshadow in a department store isn't really the glamorous job I imagined it to be when I was 13, and that in fact, many of them do look like raccoons, and that the percentage of women behind beauty counters with teased hair is alarmingly higher than it is in the population at large.

But I digress. To get back to my point, many salespeople are just downright unpleasant. They stand behind the counter chatting to other salespeople instead of offering assistance. Sometimes, they are even chatting openly, and snidely, about other customers. Ouch! If you interrupt politely to ask a question, they look at you like you might be something the cat dragged in (and I find this is especially true if you aren't wearing lipstick and carrying the latest bag from Prada). Or they offer assistance, and when you make it clear you don't need any, they hover over you and keep offering to spray your arm with the latest Britney Spears fragrance. But most of all, they just act superior. They seem to assume that everyone they encounter is clueless about how to choose a perfume, and they seem to take a special joy in making sure that the process of shopping for one is anything but fun.

If they do engage you in conversation and you appear at all knowledgeable, they look at you suspiciously and ask if you work for a perfume company. More than once, I've been basically accused of being some sort of industry spy simply because I was aware of upcoming fragrance releases that were supposedly "top secret". Perhaps there are industry spies in the perfume field – I wouldn't know – but if there are, I can only assume that they have better methods of keeping an eye on the competition than scoping out the perfume counter at suburban Macys.

Obviously, not all salespeople are snooty, and they aren't always snooty at the places where you'd think they would be. Paradoxically, I've had nothing but wonderful experiences at the swank flagship Saks Fifth Avenue store in New York, and generally unpleasant experiences at Saks stores in suburban malls. At Macys, a mid-tier chain where you might expect to find a less uppity attitude than you would at a high end store like Neiman Marcus, they are almost uniformly supercilious and extraordinarily stingy about samples; at my local Neiman Marcus, they are unfailingly helpful and pleasant. Both of the Nordstrom stores I shop at regularly are great. Sephora, where they will make you a sample of any fragrance in stock, is one of my favorite stores: the salespeople aren't at all knowledgeable, but they are friendly and kind. Now if only they would make a Sephora store for grownups without the loud music and the masses of giggling pre-teen customers blocking the aisles, but that is a subject for another slap…
* Someone must have heard me: her blog is currently mentioned in the January issue of Lucky magazine. Congratulations, R!