We, in the Blogosphere, are all in awe of TLP of
Tan Lucy Pez
: there is no one who is more quirky, more touching, more humorous. No one makes me hoot with laughter the way she does. No one. Here she is in serious mode, though. She can do that too. That TLP! (Sorry, couldn't resist it. LOL!)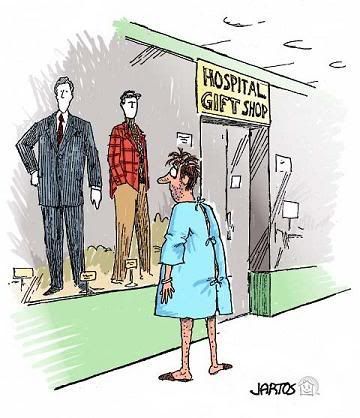 Only the rich can buy health care in America.

The only problem with delivering a SLAP! is narrowing my focus down to one slap. There are a lot of people/groups that I would happily slap. But the one SLAP that I decided on is so obviously over the top, that I just had to go with it. Nope, not anything to do with O.J. Simpson. Anything to do with him is a waste of a good tirade or a slap.

I'm slapping the Los Angeles Metropolitan Medical Center in California. This hospital dumped hospital patients on Skid Row in L.A. These sick folks were indigent of course. And they were taken to Skid Row by ambulance. That's right. They were sick enough to be taken by ambulance, and then dumped with no one to care for them.

According to National Public Radio (NPR), the 50 square blocks of Skid Row are home to more than 10,000 people with no where else to go. It has many shelters, social service agencies -- as well as convicted sex offenders and just about any illegal drug you can think of. It's a horrible, crime-plagued area.

In other words, it's no place for someone who's still sick enough to be transported in an ambulance. But on a recent Sunday, Los Angeles police captured video and still photos of five patients from this single hospital being dumped in this unsafe and unclean area.

When the police interviewed a couple of ambulance drivers they found out that the drop-offs were not a fluke. It was a plan to rid the hospital of indigents. This plan had been in use for some time.

But wait! It turns out that other hospitals in the L.A. area are doing this too!

The hospital staff at Kaiser Permanente's Bellflower hospital called a cab and paid the driver to take older woman with dementia to skid row and drop her off, according to a Los Angeles Times story reporting on "the first criminal prosecution of a medical center accused of 'dumping' patients on skid row." Earlier this year the 63-year-old patient, Carol Ann Reyes, was videotaped leaving in the taxi from Kaiser Bellflower hospital in LA. She was taken away in her hospital gown and socks, and she was found wandering skid row streets. Reyes had never lived on skid row and was unfamiliar with the area. She was a homeless person, so she was dumped.

The bigger, perhaps better, slap would be to the people of the United States. We don't have health care for everyone, and as a group we don't care about our homeless. But I never thought that we would come to this. SLAP!